reported to: The Citizen Observer:
http://www.citizenobserver.com/cov6/app/webTipForm.html;jsessionid=A13650DCEDD5A719B87A942D0B46C1C8?id=2601
1. Computer crimes (White Squirrel version)
Three Online Entities affected
I could not file a complaint online with the Columbus, Ohio Police because the site is a victim of White Squirrel. The reason is that no complaints can be sent through, and the computer net tries to hook up Outlook Explorer, unsuccessfully. The Columbus Police are the third agency or entity that I experienced this annoying White Squirrel game on. Another site that I encountered yesterday from Rebecca's Place Resource Center where I am staying was the Port Columbus Airport site. The problem there was that they ask you for a password on the first page, and then when you enter one according to their specs, the page will not flop over so the rest of the site can be seen. I was trying to apply for a job online at the Port Columbus, Ohio airport because of "White Squirrel".
The third site I encountered recently with a "White Squirrel" game on it was the Eddie Bauer site. On that site, they ask the 'victim' applying for employment online to upload a resume. Before choosing a file for a hard drive or specifying what drive the resume is to come from, a box shows up saying "You already submitted a resume", as part of a game. If you would submit these tips to the I.T. people a lot of Columbus, Ohio people would be happier.
P.S. - These issues also could indicate 'forefront' issues - especially at The Post Columbus airport while background terrorism is occurring in one or more ways.
*************************************
2. A Religious Cult that Kills
I and my fiance were in Burlington, North Carolina this past summer, staying in the community shelter, of course because of abuse by Ohio and the cult here. They there in Burlington were experiencing a religious cult - which had an article written about it in the paper. In the cult, which looks like another insurance racketeering cult, the unlike people are "Whores" and the killers are 'nice, religious people'. There was a write up about this in the Burlington, NC newspaper this past summer, when I was there in person. Today, I ran into some with a white woman, who could be described as "confrontational for no reason" I do not know the woman. She had short, layered dishwater blond/light brown hair cut in short layers, was somewhat overweight, is about 5' 8" tall, has a pointed nose, and is probably about 48-52 years of age. She for 'some unknown reason' was interested in starting trouble with me in Kroger on Main Street (Bexley), then got online, checked out and left. The point is she may be a part of the online crime "cult' series. I am staying at Rebecca's Place - 829 Rhodes Ave, Columbus, Ohio 43205 and a weird black woman this morning was there to start trouble with me and bully me - saying that I took her cigarettes, when I was nowhere near her - to agitate and hopefully cause other blacks there to participate in this online (in the auditory mode) and in person. There were witnesses, and the woman became frustrated and walked away with a mean face. This woman is also staying at Rebecca's Place Her known name is Pee-Dee.
Also, I was awakened very early this morning for no apparent reason, went outside to smoke a cigarette while at Rebecca's House, and a white smallish American made two door 'sportscar' which was about an early 80's car stopped in front in three different places. Online at that time we heard one person talking to another saying that if the person liked whites, they were not the other's friend. I also was in the van today driven by Mary Smith from the Simply Amazing program and went through a neighborhood which had in it a house, boarded up with white boards, Crooks rote graffiti on the boards, and part of the writings said "R.I.P. Calvin". Someone also picked in the auditory or online mode a woman I went to high school with - namely Beth Farkas. Of all of the people they could have picked, they picked someone whose last name rhymes with "carcass". I did not pick the woman but this is another example of sadism which I think needs to be turned in a a law enforcement complaint. If you want me to investigate this, police, please provide prosecutorial backup, as I am just a Social Worker with no gun. The state of Ohio and crooks ruined my life and instead of putting me in investigations or any comparable job that I applied for allowed these sadistic games to continue, get worse, and become a part of other states.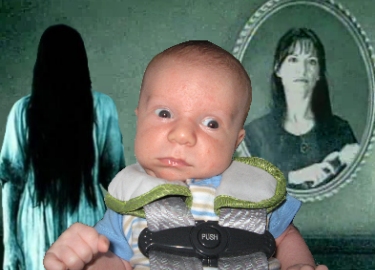 Free picture from the Internet: Tony Bullard.com
"Noah Sees Dead People"